Customer

Testimonials
Herb was everything we were looking for in a broker to sell our boat - knowledgeable, responsive and available. Pricing it right and having a solid, informative website made it possible to have our boat sold in less than a month. Perfect!
Several months back, I put out a Facebook request, looking for a great boat broker in Florida. We were buying a new boat, and needed to sell our current one. Several recommendations gave the same name: Melanie Neale. I knew the name as she is a sailing writer, who's work I've read, inheriting her writing skills from her Dad, Tom Neale (I read every article he wrote for Cruising World in the 80's and 90's), and was also a highly recommended boat broker. After a flurry of emails back and forth between Roatan and Florida, Melanie went to work. I sent a bunch of photos, and signed a contract, electronically (I was cruising with my bride in Roatan). She put together a winning ad, and listed Mikhaya in YachtWorld.
We then set sail from Roatan, on a 1200 mile, 7 day passage to Brunswick, GA, and Melanie had a signed contract and deposit before we arrived in Brunswick. We met the buyers a few weeks later, during the inspection, survey and sea trial. The sale closed, quickly and effortlessly. Melanie is cheerful, easy to work with, yet always maintains a professional focus.
I've used brokers several times over my 32 years of boat ownership, and I must admit, Melanie is one of the best! She certainly got the job done, fast, for us.
I wanted to thank Craig and Shelly Massey for their excellent service selling my boat. They made the sale painless and kept me informed every step of the way. The closing was smooth as well. I couldn't be happier.

Craig and Shelly are the most honest people I've ever met in the Marine industry (which says allot). I wasn't just treated like a customer, but they made me feel like one of their family. I'll recommend all my friends to them for purchases/sales of new or used boats as well as all for their maintenance needs.

I look forward to dealing with them in the future. They have a customer for life with me. You couldn't ask for a better representative for your company. I wouldn't hesitate to deal with them again.

Respectfully,
We contracted with Leo Thibault of Edwards Yacht Sales to sell our 2001 American Tug after 14 great years on her. We chose Leo because he was local (to the boat) and had a solid sales history with selling our model boat. Leo was open, honest and on top of all the details of the sales process. Our expectations were met in every step of the sales process. He helped us with solid preparation advice, communicated with us frequently, and was most helpful in getting the boat sold in a very short period of time.
A friend of ours had used Leo two times to sell his boats and provided us with a solid recommendation. We are pleased to add our recommendation for your consideration in having Leo represent your boat sale.
While living aboard, we have seen many brokers proudly place "for sale" signs on boats, and then never see them or prospective buyers near the boat again. That was not definitely not our experience. Leo knew the boat, the market, the location of potential buyers, and brought them to the boat. He was everything we could hope for in a broker.
We are celebrating the sale of our Tartan 4100 sail boat that has given us a great deal of pleasure for the past 22 years. We would like to thank and commend our broker, Thomas Olive, for his kindness, support and guidance throughout this process. It will be our pleasure to recommend both Tom and Edwards Yacht Sales to anyone who has a vessel that they would like to sell. The process of selling our boat would have been impossible except for Tom's knowledge of the complex process of selling a Documented Vessel in Florida.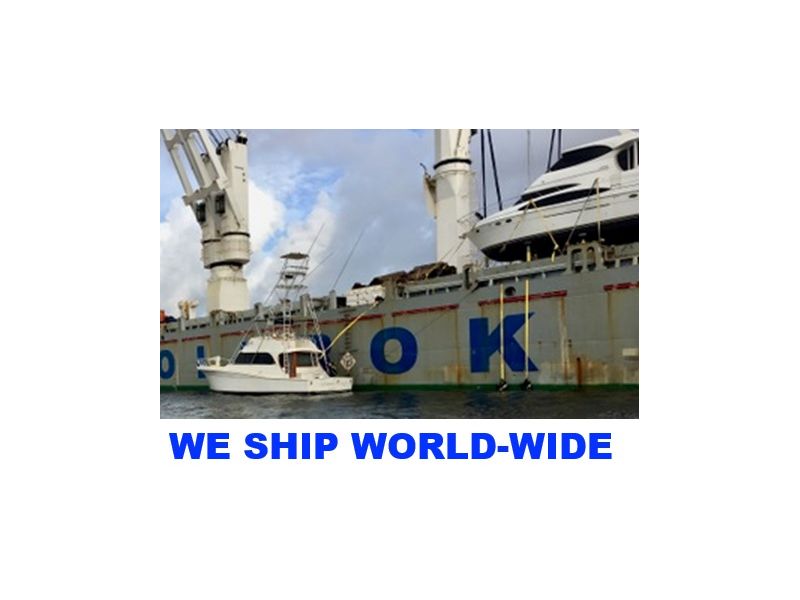 Herb Sternberg helped me locate, inspect, and negotiate the purchase of my dream boat.
Although I didn't know Herb before I started looking for a boat, he did such a great job and made me feel so comfortable that I now consider Herb to be family.
Herb is conscientious, thoughtful, dependable, friendly, punctual and has all the traits I would want from anyone helping me buy a boat.
Hello Edwards Yacht Sales,

Leo was remarkable. What a pleasure it is to work with someone who knows the history and the insides and out of the American Tug.

He's well connected with American Tugs and was able to get me onto another, privately owned, tug in my area for a first look. He drove from SW Florida to Alabama to meet me for the survey, and was on top of every step of the process. He was literally accessible 24/7 and absolutely had the best follow up.
Thanks for everything,
Dear Brett,
My husband, Jerry and I have been the proud owners of a beautiful Block Island 40 sailboat for many years.
Three years ago, we reached the sad conclusion due to health reasons that we would have to sell her. After one hour of posting an ad myself, Melanie Neale reached out to me via a phone call. I knew her family long ago but did not know she was a yacht broker. It seemed fortuitous that we should let Melanie broker our boat. Such a classic boat is not an easy sell in Florida. Melanie did all she could and more to attract the right buyers. We were very concerned that people who would really appreciate her would purchase our boat. Melanie counseled us wisely and regularly throughout the time we had her for sale. This year she skillfully facilitated the sale of our boat to some wonderful and knowledgable people, showing the boat to them several times which involved hours on the road for her.
The sale of our boat was beyond practical. It was emotional. Melanie understood that. We are so glad to have been in this partnership with her to pass our boat on to people who would love and care for her. We just wanted you to know how much we appreciated working with someone as skilled and caring as Melanie Sunshine Neale.
David took over my listing (a Searay Amberjack) after a bad experience with the previous broker. As my new broker, David's first suggestion was to RAISE the asking price as he believed the boat was under-priced. After many offers, missed appointments by potential buyers, sea trials and negotiations, I accepted an offer at ASKING price. By the way, all of this happened while I was out of state, while David handled everything.
Couldn't be happier!
Leo Thibault was the listing agent for Goosebumps, that I just bought. I had no buyer's broker. Leo was extremely professional, informative, and helpful. Though technically he represented the seller, he went out of his way to bring buyer and seller to closing. I sincerely appreciate his efforts and wholeheartedly would recommend him to anyone buying or selling a boat.