Leo Thibault literally grew up on the water, rowing his first boat before riding his first bike. From maneuvering small craft on the ponds and along the rivers of Massachusetts to racing power boats on Lake Winnipesaukee in New Hampshire and sail boats in Narragansett Bay, Leo has relentlessly pursued his lifelong obsession for boating. With his vast knowledge of both power and sail boats, Leo has turned this lifelong passion into a thriving business. Inspired by one of his favorite authors, Mark Twain, and following his own dream, Leo packed up his family and relocated to Punta Gorda, Florida several years ago and established himself as an extremely successful yacht broker.
Twain wrote: "Twenty years from now you will be more disappointed by the things you didn't do than by the ones you did do. So throw off the bowlines. Sail away from the safe harbor. Catch the trade winds in your sails. Explore. Dream. Discover." Judging by his sales figures, the number of his listings, and the loyalty of his large client base, Leo's enthusiasm is contagious.
Testimonials
Leo Thibault was the listing agent for Goosebumps, that I just bought. I had no buyer's broker. Leo was extremely professional, informative, and helpful. Though technically he represented the seller, he went out of his way to bring buyer and seller to closing. I sincerely appreciate his efforts and wholeheartedly would recommend him to anyone buying or selling a boat.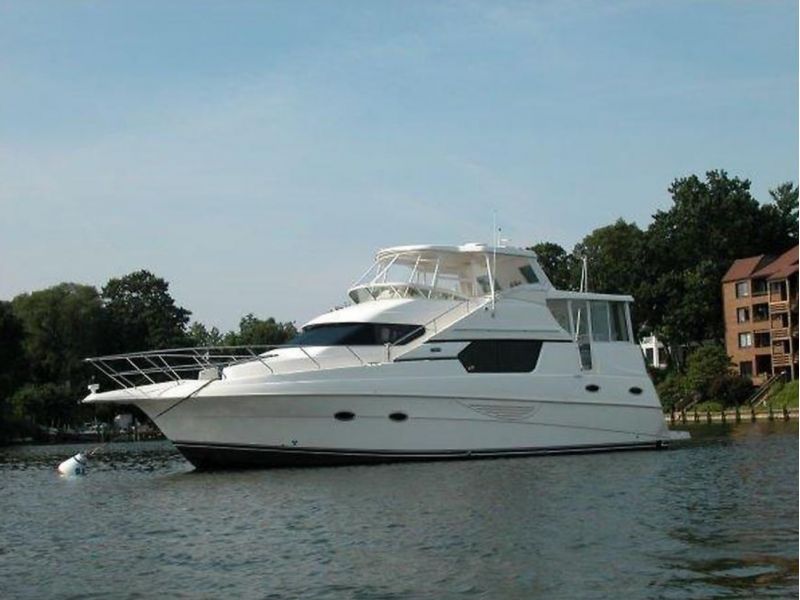 To Whom It May Concern,
As the Full Time Captain of 'barbobaroo', a Silverton 453 Motor Yacht, I was asked by the owners to put the Boat on the market and get it sold for them. The owners were now in their 80's and the husband's health was deteriorating faster than had been expected and they felt they couldn't enjoy cruising as they had over the past several years. I had been their Captain since they first purchased the boat many years earlier.
I immediately contacted Leo Thibault, of Edwards Yacht Sales, to discuss a possible Sale Contract on their behalf. I had dealt with Leo in the past acting as a Delivery Captain for several of his boat sales and therefore I knew him, and Edwards Yacht Sales, extremely well.
He immediately took on the task of marketing the boat and his approach to the sale was prompt, professional, detailed and dedicated. The Sale Literature he produced was well presented and placed on the Internet on many Sites which was instrumental in attracting customers from all over the USA and in particular Florida.
He assisted greatly on advising on just how to present the boat for any possible showings (a key element of any sale) and he eagerly sought out potential 'buyers' arranging showings on any day of the week. Some other Brokers I know only work 5/6 days a week but not Leo -he worked 24/7 for the benefit of both his sellers and buyers alike- a major credit to his Company.
He and his Company made a concerted effort to advertise the Boat and it was not long before potential buyers became interested in the Boat and a Sale was concluded after the third showing - the owners were ecstatic. The buyer was from the other side of the State and made an offer for almost the full asking price. The Survey went as expected and the Sale 'closed' in a matter of days. Monies were received and distributed with ease and all on schedule.
I have no hesitation in recommending both Leo and Edwards Yacht Sales to any potential Buyer or Seller - I have never met a more professional Team who produced excellent results in these difficult financial times.
To Whom It May Concern,
I purchased a 64ft Long Range Motor Yacht in Florida in 2004 and from then until July 2017 my Wife and me, plus numerus guests from both the US and the UK, cruised the East Coast of the US, the Bahamas and the Gulf of Mexico.
After almost 13 years our circumstances changed and we decided to sell out beloved Boat which had been our Home for all those years.
I had been a private Boat Captain for most of those years Captaining boats for various owners on both a Full and Part-Time Basis. I'd also been a 'Delivery Captain' for the many owners who buy boats and don't have the time, or qualifications, to take them from the purchase Marina to their Home Marina; I had also delivered boats for various overseas owners who needed them delivering to the Port of Departure in either Ft Lauderdale, or Miami. During this time I met many Boat Brokers who worked for various Boat Selling Companies and I had seen numerous methods of operation when it came to selling boats and obtaining suitable/perspective buyers.
With this vast knowledge on the subject I chose Edwards Yacht Sales and their Broker Leo Thibault to handle the sale of my Boat. He and his Company were well known by me and I had no hesitation in contracting him to act as my Selling Broker. He is a most professional, knowledgeable, and enthusiastic man who is an exceptionally hard working Guy - he works 24/7 for the good of both his Sellers and Buyers alike- not many others I have met come close to his dedication.
He immediately took on the task of marketing my boat and his approach to the sale was prompt, professional, detailed and dedicated. The comprehensive Sale Literature he produced was well presented and he ensured the Advert was placed on many Sites on the Internet which was instrumental in attracting suitable customers.
The Adverts quickly attracted enquires from all over the USA and in particular Florida: however, the eventual buyer came from California and they had never owned a boat before. Leo immediately arranged showings and within 10 days of the first showing an acceptable offer was made and a survey was arranged; the deal was closed in a matter of weeks and monies received with no problems encountered.
I have no hesitation in recommending both Leo and Edwards Yacht Sales to any potential Buyer or Seller. He and his Company make an exceptionally professional 'Team' who produced excellent result on my behalf.
I have been a yacht captain for over 40 years and have helped many of my owners purchase and sell yachts. Since my first call about the Crossover Cat, I thank you. As a boat operator for very wealthy people who know everything and change their minds like the weather, I thank you. All the calls I have made to you and the work you have done for me that never panned out because of a change of plans, I thank you. For your very pleasant attitude, all the laughing we have done, the phone calls on weekends and at night when you have picked up and gotten back to me, I thank you. The purchase of the 31 Jupiter in Destin, Fl., the smoothness of closing , I thank you.
Again, thank you very much Leo.
Leo was great to work with. He was prompt when he was to keep appointments and followed up on all my questions. In short he made our purchase a very pleasurable experience.
American Tug 34 Flybridge

Rybovich rybo runner by Defender Yacht Group

Block Island 40 Migrator Yachts

Sea Ray Sundancer

American Tug 34 Pilothouse Trawler

American Tug Pilothouse Trawler

Angel Raised Pilothouse MY

Baja 30 Outlaw

Tiara 3100 Open Diesel Extra Clean

Sabreline Fast Trawler

Nordic Tugs 34

Albin Sportfisher Great Shape

American Tug 34 Pilothouse

Sea Ray SEDAN BRIDGE

Catalina MK II Wing Keel Great Shape

Cabo Yachts Sportfisher Re-Powered

American Tug Rare Flybridge Model

American Tug 365 New Boat In Stock

American Tug 365 New Boat In Stock

Silverton 453 Motor Yacht Great Shape!

Mainship 350/390 Trawler Twin Diesel

American Tug Pilothouse Trawler

Boston Whaler 305 Conquest Great Shape

Bennington SSIX

Carver 32 Mariner

Sea Ray 390 Motor Yacht

Marine Trader Labelle

Marine Trader Tradewinds

Seaward 32RK

Mainship Pilot 30 Sedan Custom Hard Top

American Tug 34

Custom Motor Sailor

Catalina Wing Keel

Bayliner 4788 GREAT SHAPE

Marine Trader Sundeck Nice Shape

Marine Trader Classic

Endeavour Center Cockpit

Grand Banks Trawler

Sea Ray 340 Sundancer

Angel Motor Yacht

Hunter 340 Great Shape! Lift kept

PDQ Yachts Fantastic Condition

Endeavour Sail Cat Great Shape!!

Mainship Pilot 30 Sedan Custom Hard Top

Viking Motor Yacht GREAT SHAPE!!!!

Hatteras Cockpit Motor Yacht Re Powered

Chien Hwa Senator Sundeck Trawler Marine Trader

Carver Sedan Re Powered

Concorde Motor Yacht

Catalina 320 wing keel

PDQ Yachts Fantastic Condition

American Tug Trawler

American Tug Flybridge Trawler Turn Key!!

Marine Trader Sundeck

Navigator Pilothouse Extra Clean! Major Price Reduction!!

Hunter 40.5 One Owner Boat 3 Stateroom

Marine Trader 36 DOUBLE CABIN

Viking Motor Yacht EXTRA CLEAN!!!

Derecktor Trawler Motorsailor

Hatteras LRC

Bertram Flybridge Cruiser

Gemini 105 MC

DeFever Raised Pilot House Just Reduced

Egg Harbor BEST VALUE!

Krogen Pilothouse

Hunter Legend

Uniflite GREAT SHAPE

Heritage East Sundeck With Lots of Upgrades

Silverton Aft Cabin OWNER MOTIVATED!!

Camano SUPER CLEAN!!

Island Packet MUST SELL!!

Maxum SCR Extra Clean

Whitby Boat Works Ketch

Morgan Out Island

Marine Trader Sundeck 1 Owner Boat!!

Albin Sundeck Very Nice!!

American Tug Pilothouse Trawler

Morgan 384 Very Clean

Grand Banks Sedan VERY RARE!!!

Hunter Legend

Heritage East Sundeck

DeFever "STABILIZED" Off Shore Cruiser

Marine Trader D.C. NO TEAK DECKS

Sea Ranger Raised Pilot House

DeFever Stabilized Offshore Cruiser

Pearson

Crownline cuddy

Gulfstar Center Cockpit